You are here
Chaoyang Park (Summer 2014) (3-Day Clinics)
For Summer 2014, ClubFootball Soccer Clinics run for 3 days each at venues across Beijing and are open to kids aged 5 to 14. Students follow a fun developmental programme tailored to their playing level.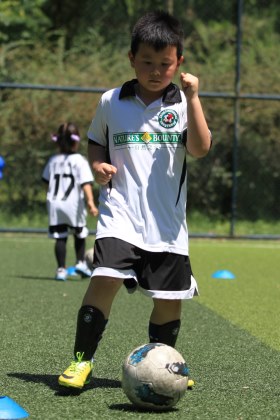 The 3-Day Clinic schedule is as below:

Day 1: (08:00-11:30am)
Dribbling and Side Moves/Turning
Technical Tests x 2 (Dribbling and Turning)
Session 3 (Forward Moves and Shooting)
Mini Premier League

Day 2: (08:00-11:30am)
Passing and Receiving
Technical Tests x 2 (Passing and Shooting)
Striker/Goalkeeper-specific Clinic
Mini Champions League

Day 3: (08:00-11:30am)
ClubFootball Skills Stations
Penalty Shootout Competition
Mini World Cup Tournament
ClubFootball 3-Day Soccer Clinics are open to kids from 5 to 14 and run from 08:00-11:30am every day. Boys and girls of all levels are welcome.

All sessions are delivered in English by UEFA qualified international coaches with Chinese translation provided by our highly-trained Assistant Coaches. The programme is designed by ClubFootball Coaching Director Alex Arnold (ex-Liverpool FC International Academy Head Coach).

Course Information
Course dates and times for August 2014 are as follows:-
August Courses


Venue

Days

Dates

Cost

(wihout kit)


Cost

(with kit)

ISB Shunyi

Mon - Wed


4th - 6th

RMB 1450

RMB 1600

Side Park (Lido)

Tue - Thur

5th - 7th

RMB 1450

RMB 1600

Beijing Riviera

Mon - Wed

11th - 13th

RMB 1450

RMB 1600

Chaoyang Park

Tue - Thur

19th - 21st

RMB 1450

RMB 1600

Olympic Forest Park South

Tue - Thur

19th - 21st

RMB 1450

RMB 1600
Note: Students registering and paying their course fee 14 days or more before the course begins receive a discount of 100 Rmb.
Course Notes
Important Update: All parents are asked to read the club's Discount & Refund Policies and Bad Weather & Pollution Policies before registering. The Registrations Policy sets out rules for discounts and refunds, and also clarifies venue rules and tips on how to get the best from your course. The Bad Weather & Pollution policies clarify procedures for cancellations due to rain and snow, and sets out API limits for each type of course, as well as the procedures to be followed should pollution readings require cancellation.
How To Register
Please note that students unavailable for these class-times can contact us for details on other courses nearby.
At ClubFootball:

China ClubFootball, Unit A316, Door 3, Zone A1, Zhaowei Huadeng Plaza, Zhaowei Building #51, 14 Jiuxianqiao Road, Chaoyang District. (Tel: (010) 5130 6893/4/5/6), open Monday to Friday, 9am - 6pm
By phone/email:

Please call ClubFootball on 5130 6893/4/5/6 or email us

to register. Please note that course registrations can only be accepted with the correct course fee. Please

contact us

for bank details if you prefer to pay course fees by bank transfer.
Click the link below to download a copy of the course registration form (in Word file format) - if you have problems downloading this document, please contact us and ask for the Member Services Department (tel: 5130 6893/4/5/6) who will send you the form by email.
Click to download a ClubFootball Junior Coaching – Summer 2014 Registration Form