You are here
Beijing Shuren-Ribet School (S-R)

Beijing Shuren-Ribet School (S-R) - Tongzhou
clear
Beijing Shuren-Ribet School (S-R) Introduction
Beijing Shuren-Ribet Private School (S-R) is one of ClubFootball's latest standing partners, and classes have run at their Songzhuang campus since late 2018.
Sessions are held on the school's soccer pitch during the Spring and Autumn seasons, and in the gymnasium below during Winter. Classes are available for players aged from Pre-Kindergarten (at least 3 years old) to Grade 6.
As with many of ClubFootball's school venues children who do not attend Shuren-Ribet are welcome, however students who do go to the school will be given priority booking if courses are over-subscribed. Please click the links on the left for more specific details about the times and dates of Current or Upcoming Courses.
If you do decide to register, please be sure to read the Course Notes and pay particular attention to the school-specific rules listed. Before registering, please also be sure to read the notes on refunds and registration FAQ's in the Register section in the toolbar at the top of the page.
| | | |
| --- | --- | --- |
| ClubFootball would like to extend its thanks to programme hosts, the Beijing Shuren-Ribet Private School. To learn more about Shuren-Ribet, please click here to visit the school's website. | | |
Course Schedules & Pricing
Course Schedules & Pricing
ClubFootball Junior Coaching Notes and Guidelines
Venue Specific Course Notes
Parents are kindly asked to park outside the school, and not directly in front of the school gate.

Bicycles are not permitted near the soccer pitch area, and should be left in the bike parking area inside the school gates.

No smoking is permitted anywhere on campus.

Students, parents and coaches are visitors to the school and are not permitted to enter school buildings, with the exception of accessing the toilets which are in the gym building on your left as you enter the school gates.

In the interests of security, all visitors to the school are asked to leave the school premises once classes are finished.
General Registration Notes
Please note the following links provide IMPORTANT information about our registration policies as well as essential information about what we do if there is bad weather.
Please make sure you take a few moments to read through these documents and ensure you are familiar with the rules and regulations of the club.
Discounts and Refunds Policies
Bad Weather and Pollution Policies
Player and Parent Conduct Policy
Finally if you have any questions about registering then please read through the Registrations FAQ. If you don't find the answer to your question – or if you've decided you would like to register then please Contact Us.
Location Map
Beijing Shuren-Ribet Private School is located at Xiaopu South #1, Songzhuang Town, Tongzhou District, Beijing. The school is on the west side of the street.
学校地址:北京通州区宋庄小堡南区甲1号
Tel:(010)80856787/80856788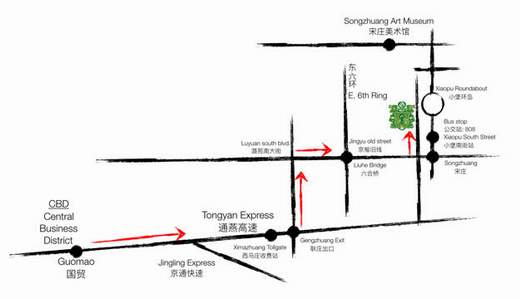 clear