Yanqi Island Football Camp with EPL Star!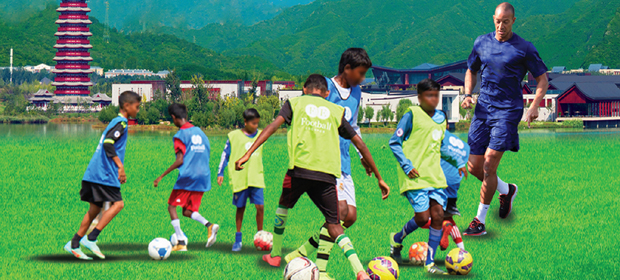 Yanqi Island Football Camp Coached by Ex-Premier League Star, Bobby Zamora
Sunrise Kempinski Hotel, Beijing & Yanqi Island
24-August, 2018 - Yanqi Island Football Camp is back! From 1st to 4th October 2018, this will be the second football camp with ex-England International professional footballer Bobby Zamora at Yanqi Hotel, managed by Kempinski. For kids who love football and expect top-level training, this camp can set them on the right path and give them a unique footballing experience to set them on their football journey!
English professional footballer Bobby Zamora, an accredited coach, will conduct a four-day football training course for youngsters from 5 to 17 years old on the picturesque Yanqi Island. An ex-Englang international, Bobby spent more than a decade of his career playing in the Premier League with prestigious clubs including Tottenham Hotspur, West Ham United and Fulham. The four fun-packed, inspirational football sessions led by Bobby Zamora will provide a fantastic opportunity for football-loving children to meet a world-class football star, learn from him and genuinely interact with him over the four days. This truly inspiring experience will encourage the children to achieve their footballing dreams.
Come and sign up your kids for this wonderful football camp on Yanqi Island in the Golden Week holiday! Let your kids experience an international specialised football course with incredible scenery on Yanqi Island. Plus, you and your family can enjoy the European-style luxury properties as well as services in this fantastic leisure destination.
The package, comprising a four-day training and three-night family stay at the hotel, is on offer at the price of RMB 8,988, including a kit bag with a shirt, shorts, socks and a football bib, as well as a training certificate with Bobby's autograph. For parents who prefer to make the journey to and from the venue each day, there are "Bobby Only" packages available at the price of RMB 4,688, which includes the four-day training course only.
To sign up for the football camp or for more information, please call +86(10) 6961 8888 ext. 3618.
###
Editor's Notes:
Located 60 km north of Beijing's city centre, alongside the picturesque Yanqi Lake, and featuring panoramic views of Yan Mountain and the Mutianyu section of the Great Wall, Sunrise Kempinski Hotel, Beijing & Yanqi Island is Kempinski's largest property in China. This destination, managed by Kempinski includes 590 guestrooms and suites housed across Sunrise Kempinski Hotel, Beijing & Yanqi Island, located along the lake, Yanqi Hotel and 12 Boutique Hotels, located on Yanqi Island. Leisure facilities include 11 restaurants and bars, two Kempinski The Spas, a private marina, the Yanqi Pagoda, recreational and fitness facilities, a Kids Club and beautifully landscaped gardens.
With 14,069-square-metre of meeting space, spread across the 8,277-square-metre Beijing Yanqi Lake International Conference Centre, and hotels with four ballrooms and 23 meeting rooms, this destination is designed to host high-profile government conferences and is set to become the location of choice for global summits and large-scale international meetings in the region.
Be it dining with loved ones, entertaining business associates, hosting a meeting or staging a conference, celebrating a large or intimate wedding, or a weekend escape with the family, the facilities at Sunrise Kempinski Hotel, Beijing & Yanqi Island offer guests a surprising change from their traditional experience in a resort hotel.
About Kempinski:
Created in 1897, Kempinski Hotels is Europe's oldest luxury hotel group. Kempinski's rich heritage of impeccable personal service and superb hospitality is complemented by the exclusivity and individuality of its properties. Kempinski now manages a portfolio of 76 five-star hotels and residences in 31 countries and continues to add new properties in Europe, the Middle East, Africa, Asia and the Americas. Each property reflects the strength and success of the Kempinski brand without losing sight of its heritage. The portfolio comprises historic landmark properties, award-winning urban lifestyle hotels, outstanding resorts and prestigious residences. Each one is imbued with the quality guests have come to expect from Kempinski while embracing the cultural traditions of its location. Kempinski is a founding member of the Global Hotel Alliance (GHA), the world's largest alliance of independent hotel brands.