2018 Summer: CF World Football Camps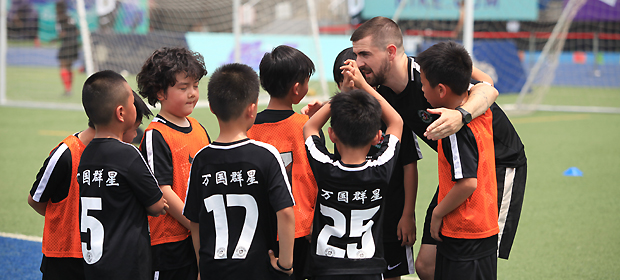 ClubFootball's World Football Camps run throughout the World Cup months and offer kids aged 5 to 12 an exciting opportunity to tap into this summer's football fever!
Each day focuses on a particular country, with the daily theme based on that country's trademark area of expertise! On "Spain Day", the theme of the day is passing, with students developing their passing skills and learning how best to use these in real-match situations. "Brazil Day" showcases the individual tricks and balls skills of Brazil, with students taking on 1v1 challenges and how to beat an opponent in a match! "England Day" focuses on the art of the striker, with shooting and finishing techniques included, with "Germany Day" putting it all together on the final day as players learn how to play together to devastating effect! 2v2's and 3v3's are practiced in matchplay situations as players work together to leave opponents outnumbered and outfoxed!
World Football Camps @ Chaoyang Park (Pitch 12)

Grade

Date of Birth

Days

Session Time

Course Fee

(no kit)

Course Fee

(with kit)

K/1

2011.09.01 - 2013.08.31

4

08:00 - 09:10

RMB 700

RMB 900

2/3

2009.09.01 - 2011.08.31

4

09:20 - 10:50

RMB 850

RMB 1050

4/5

2007.09.01 - 2009.08.31

4

09:20 - 10:50

RMB 850

RMB 1050

6/8

2004.09.01 - 2007.08.31

4

09:20 - 10:50

RMB 850

RMB 1050
Dates: Wk 1: July 17-20. Wk 2: July 24-27. Wk 3: Aug 14-17. Wk 4: Aug 21-24