Chaoyang Park East Gate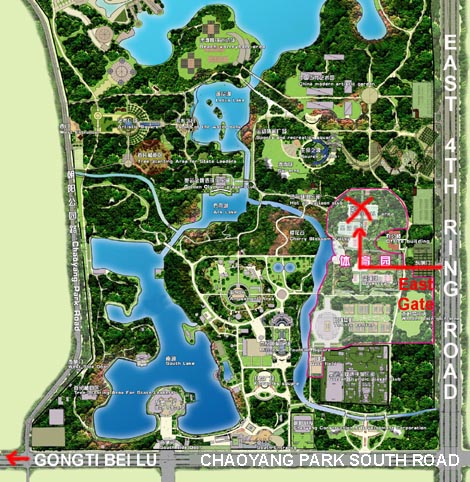 The 5-a-side pitches at Chaoyang Park are located just inside the East Gate (Chaoyang Gongyuan Dong Men), which is located on the inside of the Fourth Ring Road.

The easiest way to get to the pitches is to enter the main East Gate and head walk straight on for 100m past the sports shops, then turn right. You'll see the basketball courts on the left, and the pitches are 50m further on. The ClubFootball 5-a-side League will be held on the two pitches on the right hand side as you enter the complex. Please note: there are a couple of smaller gates on the East side of the park which are generally closed and for works access only - please enter via the main East Gate.

You may be asked to buy a ticket (5 Rmb) to enter the park via the East Gate; please show your ClubFootball membership card and you do not have to buy a ticket. If you do not yet have a membership card, please ask a ClubFootball member of staff, pick one up at the Clubootball Centre on Jiu Xian Qiao Lu, or click here to mail us and we'll get one to you.

The pitches can also be accessed from the South Gate of the park (see map above) - players arriving via the South Gate will be required to buy a tciket.

If you'd like to book the pitches for a training session or match, please call ClubFootball on 5130 6893 to book at a discounted rate.
Copyright © by China ClubFootball - the home of amateur football in China All Right Reserved.
[ Go Back ]